Merry Christmas! (sorry one day late)
Our family is not Christianity even we went to Christianity school so we did very normal dinner and work. How was your Christmas?I trust you had great time!
You may know that Japanese value more new year. Many people visit shrines from end of year's night and stay there for while to wait to new year. Since it means you come the shrine for two years, ending year and coming year.
Visiting Shine at new year is one of most poplar tradition in Japan. I like it as well.
Since, I can still see ladies in Kimono at Hatsumode.
If you want to do 2nenmairi or Hatsumode in Kimono. We love to support you.
Hatsumode Sell
Make reservation and come to our shop in Omiya at 31st of Dec(2011) or 1st of Jan(2012) from 10am to 5pm
Full Kimono set for Ladies will be 15000yen
This is not Nagoya Obi style but Casual Obi style like this
(Casual style )
 like this youtube
It is mainly for Yukata but also you can use for Kimono and more easy to do by yourself! For 15000yen you can get
Kimono awase Kimono with lining ¥1,000〜
Haori a jacket worn on top of ¥1,000〜
Hanhabaobi Half wide Obi ¥2,000〜
Jyuban Kimono underwear ¥8,000〜
Koshi himo Thin sashes tied ¥100〜
Tabi socks for Kimono ¥600〜
Datejime tie beneath the Obi ¥500〜
Zori shoes for Kimono ¥3,000〜
Becouse of Cold season we give Haori a jacket worn on top of Kimono like this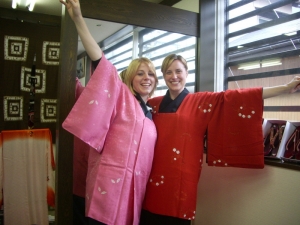 If you are interested in this sell, please fill out the following questions and sent e-mail at info@kimono-sakaeya.com
- Name
-phone number of your staying hotel or cell phone
- body height cm
- body size SS/S/M/L/LL
- shoe size cm
- arrival day and time
Enjoy your Hatumode in Kimono!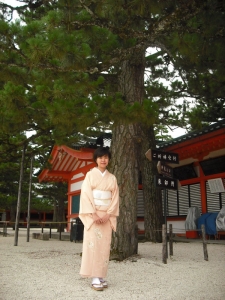 Kimono definetly fits Shrines :)
Have nice end of and new year!
Kahori