The Sakaeya Experience by Guests
The warm welcome and the kind hospitality that we received far, far away from home at the Sakaeya kimono shop from family Ochi can only be described as a guest experience.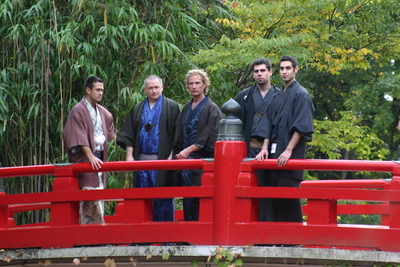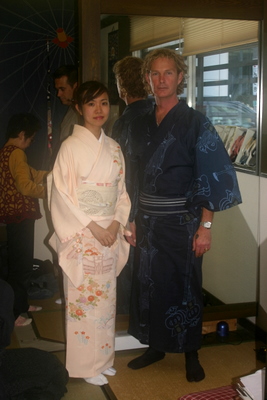 We woke up to a beautiful Sunday on November 1st, all of us having survived the Halloween party the night before. Some better than others…
We knew this was going to be a special day and one of our highlights of this Japan trip. Several weeks before our trip we had contacted Kahori Ochi, the young and charming owner of the Sakaeya Kimono shop. She had kindly and patiently answered all our questions and prepared our kimono rental and photo shoot. The Sakaeya kimono shop is located in Saitama city, which was formerly known as Omiya in the Saitama Prefecture. It is only a 20 min ride from Tokyo. The store is located right between the main station and Omiya Park, which is the home of the beautiful and very old Hikawa Shrine.
When we showed up at 1 pm for our appointment we were greeted by Kahori san, her mother Keiko and her uncle. Kahori san's English is fluent, and she enticed us immediately with her wits and charm. As soon as we entered Sakaeya our transformation began and strangely it seemed that the change did not just happen on the outside only. Family Ochi was well prepared for our sizes and dimensions that clearly are way bigger than the Japanese average sizes. It took only a few minutes and everyone had their favorite pattern picked. The ladies helped us step by step to change into our new outfits. Kahori san's detailed instructions in English were incredible helpful.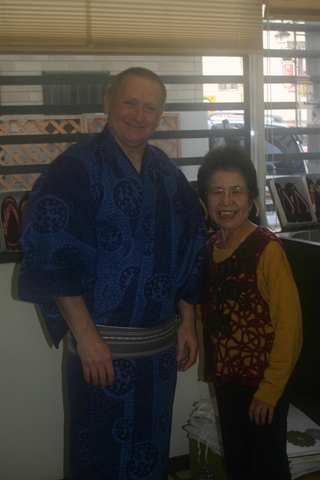 Keiko Ochi who as we found out just recently started to study English, did not let the language barrier slow her down one bit. With her outgoing personality, sense of humor and attentiveness she took control of us, and before we knew it gave us a traditional Japanese makeover.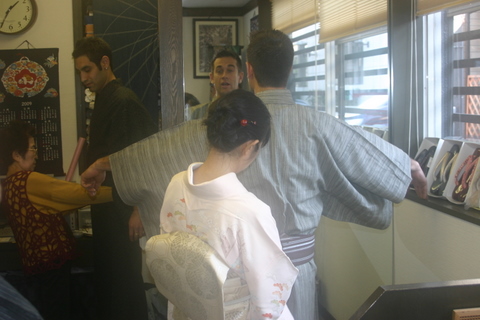 Kahori san pointed out and explained to us some of the deeper aspects of the Kimono and their meanings. I am sure I was not the only one who developed a deeper sense, understanding and appreciation of the sensual lines and curvature of a woman's neck in a traditional kimono.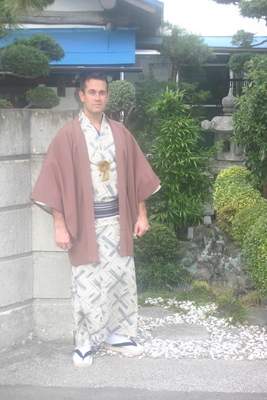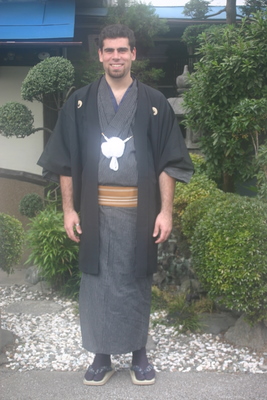 Once we were all dressed, we put on the tabi socks and geta sandals. Now it was time to head for the shrine. Walking through the streets of Omiya, we turned many heads and quit a few Japanese came up to us complimenting our Kimono. Looking at my friends I had this flashback into my childhood in the early 80's, where I watched Richard Chamberlain wear his first Kimono in the TV mini series Shogun.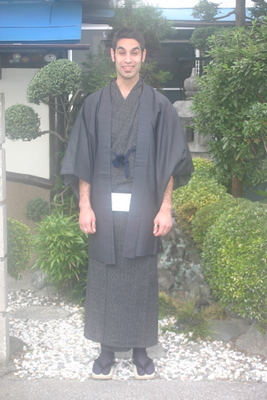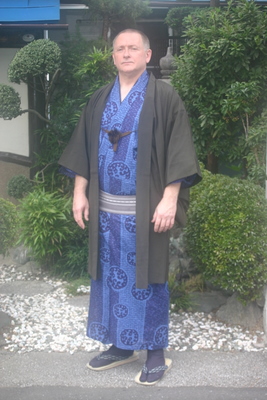 As we are getting closer to the shrine, it starts to hit me. Canadian culture and history as we know it today started with the first European settlers only a few hundred years ago. In contrast to this the Hikawa shrine looks back at a history of 2400 years. According to the temple's history it was established during the reign of Emperor Kosho in 473 BC. Japan truly is a land of very old traditions and customs. I sincerely hope this cultural heritage will not be lost in this time of fast food, cell phones, brand name shopping and technological advancement.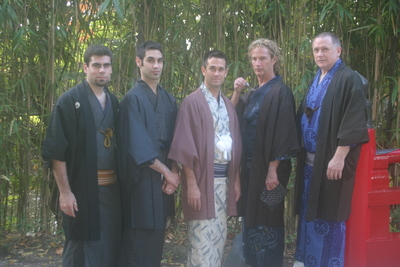 We were on the Hikawa Dori, a centuries old road that leads directly to the shrine, when we stopped for some pictures at the Bamboo forest. It is hard to describe the mood and feeling. A Kimono is very comfortable to wear, yet at the same time it is a formal garment. It is like wearing a t-shirt and sweatpants, but still having the distinguished look and feel of a tuxedo. The background of the old tress on this ancient road and the bamboo forest create an atmosphere of relaxation and tranquility.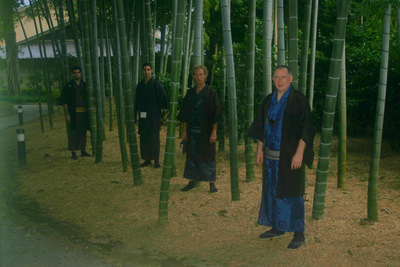 The Shrine itself was very impressive and it was a busy day, as many parents brought their kids for the traditional 7-5-3 age celebration. Girls go at the ages of 3 and 7, boys at the age of 5.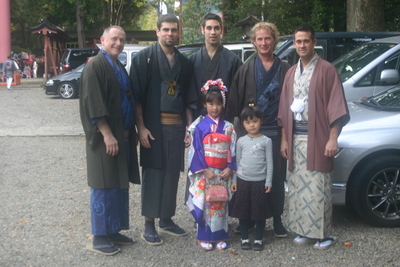 Afterwards we took a short stroll through the traditional Japanese garden right outside of the shrine. We walked for a little bit around Omiya park and than took a break, before heading back to Sakaeya.
Back at the store Kahori san held a traditional tea ceremony for us. Her gracious movement was beautiful to watch. As more people came into the store Kahori san conducted a second tea ceremony this time with Koicha. Koicha is the thick type of green tea where several spoons of tea are used for each guest. It is rather difficult, as the tea has to be whisked carefully to avoid lumps also just the right amount of water needs to be added. It also takes a delicate palate to appreciate the taste of Koicha.
When it came time to take our kimono off, Keiko Ochi looked at J. and said in English, "You truly look like a Japanese gentlemen", in response to his big smile she added quickly, "for a day…".
This was an incredible day with memories for a lifetime. It was a very comfortable and enjoyable experience, yet at the same time deep and eye opening. We are grateful to family Ochi for giving us this opportunity and for their kind hospitality.