Killing the Kimono
Facing pressure from all sides, Japan's iconic garment faces extinction
We, the kimono cultural studying team, stand up and wish to let you know what's going on in Kimono culture, how craftsman and kimono artist suffer in Japan's industrialized society.
We want to invite you to our event to share this reality of the kimono world.
Date: Mon 25th of Jan 15:30~18:00
Venue: Gakuseikaikan room 406
See 30
http://www.waseda.jp/eng/campus/map02.html
より大きな地図で
無題
を表示

No reservation/anytime you can come and leave/ free of charge

Language; Japanese, English, French, German
<What we will do>
1. Basic knowledge about Kimono history, how to wear etc… by
Kimono shop second owner, tea ceremony assistance teacher Kahori Ochi
2. Presentation diapering Japanese hand craft Kimono Bukyu-komon
Bingata by Yuki Kyan Kaori Oshima Kana Minematsu
3. Kimono from German point
4. English explanation Kimono panel
5.
Okinawa Shamisen
by Yuki Kyan  
6.    The Japanese traditional tea will be offered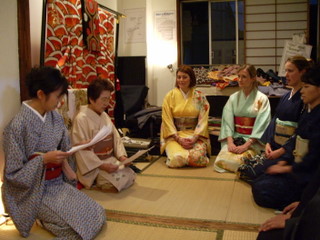 For more photos please visit here
http://picasaweb.google.co.jp/kimono.sakaeya/20100110#
These crafts man's interview we are going to introduce there.