During my tea ceremony lesson time, I had been helping our family run Kimono shop where is only 5 min away from home on foot and in morning normally there was no chance for work. My loved late uncle came early and enjoy cleaning and smoking at shop which is his over 50 years habit.
Around noon, I came the shop and went to lunch with my uncle. He was my best friend (and maybe still in my heart). Since I had been with him so often after my father past away, I called my old boyfriend (10years long relationship) to "Ojisan" uncle by mistake, he screamed " weird!".
Back to my tea ceremony story, so I did not need to awake up early for work but for the tea ceremony lesson since my teacher said I should come an upper class on every Thursday at 9am so I must wake up early and it was so hard for me. I am so low pressure parson…
Wake up around 6:30am, make a bento for long lesson then bring a some food to my mouth which I cannot eat breakfast with happily early time.. Then change to Kimono.(if I took long time for breakfast so I had so limited time for it! But it made me fast Kimono dressing lesson). Start my Jimmy small car engine. Sokei sensei is at different town where is around 30min by car so had to leave around 8am for not become late as new comer. In Japan punctual is fast priority!
Parked my car and open Sokei sensei home door which was always opened beside of night and it shows how Japan is safe and traditional idea is opened for all. "good morning" even no-one answer, I said and walk to one small room which is behind tea ceremony room where is called Mizuya (kind of back yard for the tea ceremony). Not get Kimono dirty, I put my Kappogi (kimono apron) and start to prepare tea ceremony lessons. However as I am so beginner so I had to wait orders from Senpai (older students).
I could not forgot how nervous on the first day of Thursday lesson. I could not sleep well since I was so afraid of over slept and I had to think my tea ceremony lesson hand movements over my dream..
By 9am, all student came. I think it was around 8 student inc me. We bow each other and open a slide door then Sokei sensei in Kimono was sitting (seiza) on her tea ceremony room, we greet her with deepest bow (but must be straight back to show elegance) here is the something lesson day!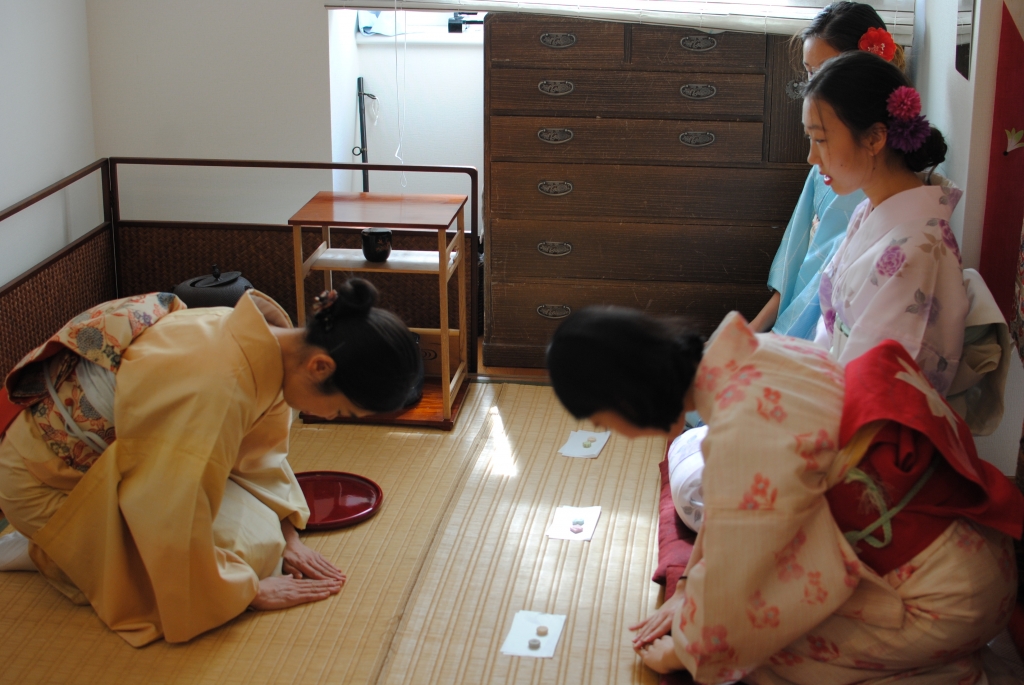 Sokei sensei was so keen on bow! It is not so good way to say others " I study tea ceremony" ​by ourselves since sounds "you pround of yourself" but your bow can show without word " you study tea ceremony". My other friends who go to good tea ceremony teacher said same thing.