Kimono made in Saitama
It's become 4 years since I decided to work for the Kimono industry. Time flies. Although I was born as a Kimono shop's
daughter, I have never had any interest in Kimono. My knowledge of
Kimono was almost nothing. I am studying Kimono to catch up, but even
now I don't think I can make it and I'm not sure when I can find my
self "I done!" since Kimono is so deep.
Kimono has over 1000 years history and before our modernization,
every region were making their own original Kimono that fit their
climate and life. Futuremore, Kimono production is completely divided
into specialized labors so it became more and more complicated and
sophisticated. Therefore a variety of Kimono exists and the ideas are
deep. When I started working as a Kimono shop owner, I thought, "Maybe Kimono made in Saitama is good stepping stone since it is easier to find article about them and to meet someone who is related Kimono in Saitama" then I had started to study it.
Thanks to the subject, there has never been someone who studied it
(to my knowledge). TV Saitama introduced me when our shop had a
demonstration of Honjyo Ori. This year, I wrote about the crisis of
Yukata dying which was "Kagozome" on my blog. I got many positive
comments. These cheered me up a lot.
But I'm sure some of you might think, "Kimono made in Saitama
sounds strange". I can't deny that Saitama has litte character but
just another town close to Tokyo. But is it really so? Think about
Saitama, it is just next to Tokyo / Edo where has been a big and
important town and there were enough land to for silkworm raising, and some clear rivers for indigo dyeing. These circumstances were very good for Kimono making! Yes, we had Kimono in Saitama it support
Saitama people's life both then and also now.
I can only make a little exhibition about Kimono made in Saitama.
Saitama doesn't have world famous Kimono such "Oshima-tumugi" and
"Kaga-yuzen", but I'm assume if you know the background of them, you
may feel something special. This is what I wish more Japanese today
would feel!
Also, please come and have a look around and see the attendeed.
Including perhaps someone like you, who are not Japanese. You may
learn how Kimono has a cultural significance. Kimono attracts people.
Races, nationality, languages, gender, and generation have doesn't
matter.
My message for this exhibition is "From a Saitama micro point of
view, you may feel how Kimono is friendly. From a macro point world
view, you may feel how kimono gets attention and respect". I would
also like let Japanese know more about them and make Kimono more
popular among Japanese. I hope you enjoy this exhibition and support
Kimono.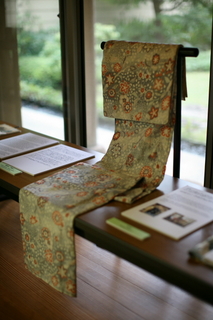 Exhibition at our 50 years anivesary event. This Kimono is Honjo-kasuri
Honjo-kasuri:
Honjo-kasuri started in Honjo City and Kodama County in the northern part of Saitama Prefecture, an area especially active in silk farming. Originally the daughters of farming families wove their own clothes for everyday use, but now it has fallen almost completely out of production, and those who are still able to make Honjo-kasuri are all over eighty years old.
On May 27, 2006, Sakaeya welcomed Mr Akira Arakawa, a traditional craftsman, and his wife to show their weaving technique to our customers and let them try it for themselves. TV Saitama also came and broadcasted the event.