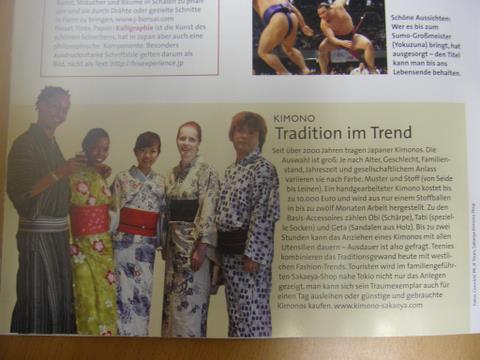 KIMONO
Tradition im Trend
Seit über 2000 Jahren tragen Japaner Kimonos. Die Auswahl ist groß: Je nach Alter, Geschlecht, Familienstand, Jahreszeit und gesellschaftlichen Anlass variiren sie nach Farbe, Muster und Stoff (von Seide bis Leinen). Ein handgemachter Kimono kostet bis zu 10.000 Euro und wird aus nur einem Stoffballen in bis zu zwölf Monaten Arbeit hergestellt. Zu den Basis-Accessoires zählen Obi (Schärpe), Tabi (spezielle Socken), und Geta (Sandalen aus Holz). Bis zu zwei Stunden kann das Anziehen eines Kimonos mit allen Utensilien dauern - Ausdauer ist also gefragt. Teenies kombinieren das Traditionsgewand heute mit westlichen Fashion-Trends. Touristen wird im familiengeführten Sakaeya-Shop nahe Tokio nicht nur das Anlegen gezeigt, man kann sich sein Traumexemplar auch für einen Tag ausleihen oder günstige und gebrauchte Kimonos kaufen.
www.kimono-sakaeya.com
KIMONO
Tradition in Trend
Since 2000 years Japanese wear kimonos. The collection is big: Depending on the age, gender, marital status, season and social occasion they vary according to color, patterns and fabric (silk and linen). A handmade kimono costs up to 10,000 euros (1,250,000 Yen) and will consist of only one roll of fabric and it can take up to twelve months of work to produced it. The basic accessories include Obi, Tabi (special socks), and Geta (wooden sandals). It can take up to two hours, attracting a kimono with all the utensils take - perseverance is needed. Teens combine this traditional garb with Western today fashion trends.
In the family-run shop Sakaeya near Tokyo the tourist will not only shown how to attract a kimono they can also borrow the dream kimono for one day or buy a cheap and second-hand kimono.
www.kimono-sakaeya.com
FVW Corporate Publishing GmbH
www.fvw-mediengruppe.de