You may know Japanese don't have a certain religion. At new year, we go to a Shinto shrine, the most popular wedding style is western style which means Japanese go to a Christian church and for a funeral, most Japanese chose Buddhism. It might be true to say that we are not religious.
If I say "Japanese don't have any religion" in general, I often get this question in repsonse, "how do Japanese keep their morality without religion?" It is a tough question for me to answer. I would like to say it's because of "family" or "tradition" but that doesn't seem to be true any more.
In my case, I went to a Christian school for 16 years and my family is still in the traditional style. So these things influenced me a lot. However now I don't go to church any more and I have many chances to meet many people and get good and bad influences more easily.
I thought, "I have to make a good motto to keep morality" At the Shodo exhibition, I wrote my motto from an ancient Chinese book called
千字文 
What I wrote is;
知過必改   得能莫忘   
when you find a mistake, you need to correct it immediately  
When you learn a good thing, you should never forget it
徳建名立   形端表正
When you cultivate high virtue, you will get a good reputation and your appearance and behavior will become beautiful.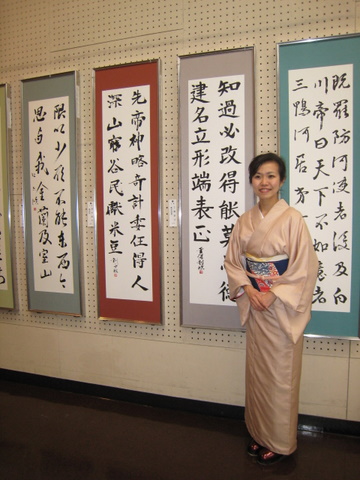 I especially value and appreciate the last one.
"Do what I believe is the right thing, and naturally my appearance and behavior will become beautiful and I will get high virtue "
I am ageing but want to keep my beauty! So this is kind of my beauty salon treatment!