We now offer kimono rental in Tokyo
If you are too busy to come to our Omiya shop, we can now offer you kimono rental in Tokyo. Our new Sakaeya Kimono Salon is located near the Four Seasons Hotel Tokyo at Chinzan-so and St Mary's Tokyo Cathedral in Mejiro, the closest station is Edogawabashi on the Yurakucho subway line.
May-2013
We moved to Harajyuku very near Meiji Shrine from May 2013. It is my home salon. Please visite
http://kimono-sakaeya.com/Tokyo/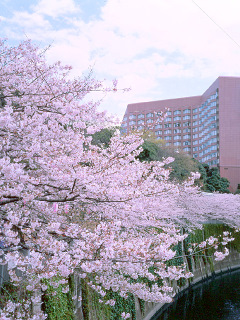 We have kimonos for women, men and children. The kimono rental includes dressing you in the kimono and taking easy movie picture of how to wear Kimono. In addition, we invite you for a small free guided tour and tea ceremony. Close to Sakaeya Kimono Salon, we can enjoy the Four Seasons hotel's beautiful garden, the historical park, Kanda river, or the beautiful memorial house of prime minister Hatoyama family Hatoyama hall.
(detail is following)
Kimono Rental:
Plan 1: Regular Kimono Rental
¥8000 yen for women, men, and children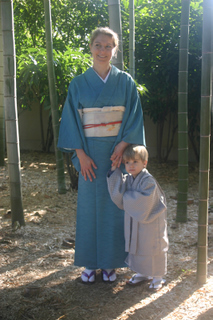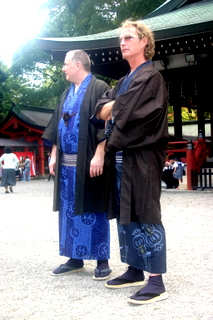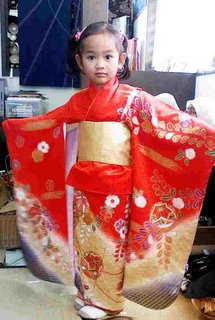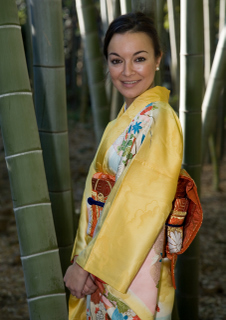 Plan 2: Formal Furisode Kimono Rental for Special Occasions!
¥50,000 yen for women (one person reservation is welcome)
¥70000yen yen for couples
This includes the photo shoot by semi-photographer.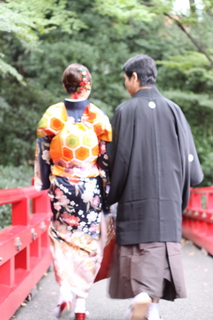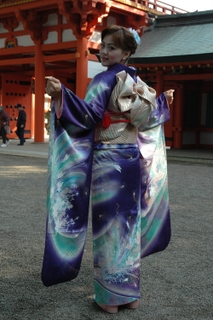 Yukata:
Plan 3: Summer Yukata
¥8000yen for women and men (this is not a rental, you can keep the full set)
Details:
Sakaeya Kimono Salon is open from 9am to 22pm. Over night rental and other times require an extra fee. Overnight rental plus ¥3000 yen per Kimono, two night plus ¥5000 yen, additional ¥1000 yen for each additional night.
Our free guided tour is for one hour at maximum.
Even if it is raining, we are still happy to offer you the rental but, the places we can take you to will be limited.
Complimentary rental kimono coat for cold weather.
We have everything for your outfit to rent, so just bring yourself!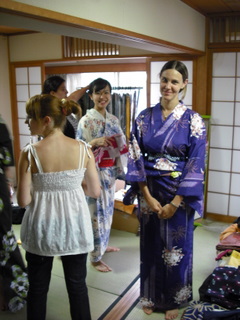 Sample schedule:
11:00 meet at Edogawabashi station and to Sakaeya Kimono Salon
noon finish dressing and take guided tour
13:00 finish guided tour and then enjoy your time!
18:00 return to Sakaeya Kimono Salon for tea ceremony and undressing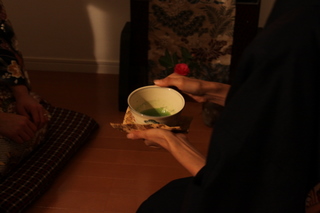 Reservations:
Please reserve for two people or more, at least 3 days in advance and pay by
pay-pal
when we confirm your reservation.
Booking site
Here are some examples of where you can go:
Sumo fighting
From 10th of Jan to14th of Jan from 9th of May to 23rd of May and from 12th of Sep to 26th of Sep at Kokugikan near Ryogoku station (about 30 minutes from our salon). Tickets are ¥3600 to ¥14300 yen
Kabuki theater
On most days until the end of April (then they will be closed for rebuilding so you have to see this traditional theater now!). At Kabukiza in Ginza (about 30 minutes from our salon). Tickets are ¥3,000 to ¥20,000 yen.
Bunraku puppet play
During two weeks in February and May and September and December at Kokuritsu Gekijyo in Hanzomon (about 25 minutes from our salon). Tickets are ¥1,500 to 5,700 yen.
Nou dance-drama
Available all season at several locations. Nearest one is Kanze at Yarai, 20 minutes walk from our salon. Tickets are about ¥2,000 to 15,000 yen.
See more about theaters here
http://www.japan-guide.com/e/e639.html
Museums within walking distance from our salon
Eiseibunko
5 minutes walk, ¥600yen
The TSUBOUCHI Memorial
Theatre Museum Waseda University
Aizu Museum
Theatre Museum Waseda University 15 minutes walk, free of charge
The Kodansha Noma Memorial Museum
3 minutes walk, ¥500yen
Other recommended places to visit. Please see the web sites for details and opening hours.
Basho an
10 minutes walk, free of charge (closed Mon & Tue)
The Four seasons hotel Chinzan-so garden
2 minutes walk, free of charge
Kanda river
5 minutes walk, free of charge
Shiedogababashi Park
10 minutes walk, free of charge
Hatoyama
10 minutes walk, free of charge (closed on Mondays)
And there are always many events in Tokyo
http://www.tcvb.or.jp/en/agent/calendar.html
Also, the Four Seasons Hotel Tokyo at Chinzan-so is next to the salon and their site will help you as well
http://www.fourseasons.com/tokyo/attractions.html