What is the significance of the Japanese tea ceremony (Sado)? By Kahori Ochi
This is a very difficult question. Even now, I am unsure of the answer. My tea ceremony teacher told me "The tea ceremony reflects the Japanese heart". She also said to me "When the host opens the tea ceremony, she must concentrate on one thing, and that is, how to entertain your guest. However, you yourself think of the "how" aspect. I can teach you the technicalities (almost every hand movement is set, even how to walk!) but you must find the "heart "of the tea ceremony on your own". Sen Rikyu, the 16th-century tea master who perfected "The Way of Tea", when asked to explain what this "way" entails, replied that it was a matter of observing seven rules:
#1 Make a satisfying bowl of tea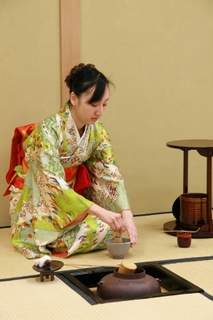 #2 Lay the charcoal so that the water boils efficiently
#3 Provide a sense of warmth in the winter and coolness in the summer
#4 Arrange the flowers as though they were in the field
#5 Be ready ahead of time.
#6 Be prepared in case it should rain
#7 Act with utmost consideration toward your guests.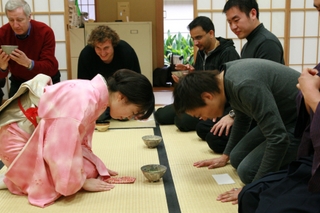 The questioner was vexed by Rikyu's reply, saying that those were simple matters that anyone could handle. To this, Rikyu responded that he would become a disciple of the person who could carry them out to perfection!
The point of this story is that "the Way of Tea" is basically concerned with activities that are a part of everyday life, yet to master these requires great sophistication. In this sense, "the Way of Tea" is well described as the Art of Living. As seen within Rikyu's seven rules, the Way of Tea concerns the creation of the proper setting for that moment of enjoyment of a perfect bowl of tea. (from Ura Senke HP)
Additionally, this custom has been strongly influenced by Zen Buddhism. My favorite and most famous quote says "Remember the thought that when you meet that guest for the tea ceremony, it might be the only time you see this guest in your life".
This emphasizes the fact that the encounter between the host and the guest in the tea ceremony is a special occasion. It occurs only once in a lifetime. Every encounter, even with a person we know for a long time is unique. I think we can say same thing in our life as well. Therefore, in my opinion, the tea ceremony captures the spirit of Japanese philosophy.
By Kahori Ochi, Japan 2005