Traditionally Kimono and Yukata had not required tailoring.
They used to be made from a single piece of fabric called tanmono.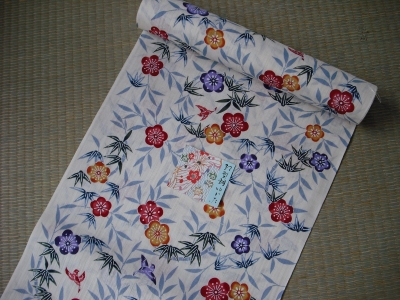 The real style of Yukata purchase is to choose the tanmono first and Kimono shops measure your body, then ask professional tailors to sew one tanmono to fit each individual.

However, since the sewing method for kimono is quite simple, before World War 2 it was commonly said that women had to have this sewing skill in order to get married!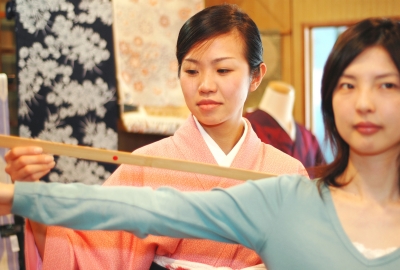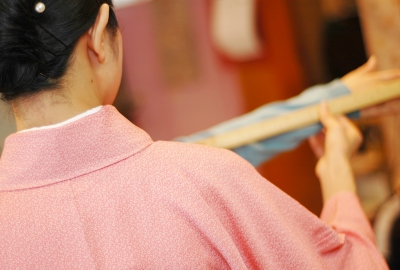 Nowadays many shops sell pre-made, already sewn Yukata into S/M/L sizes. It might be true this fits the modem society's needs, but I want to show you what authentic Yukata style is, as a daughter who was born into a
Kimono
shop
owners family.
All you need for wearing Yukata is
*Yukata
*Obi (women's: from 6000 yen; men's from 5000 yen)
*Thin sashes for securing obia (100yen)
*Geta wooden sandals for Yukata (pre-made geta start at 1000yen).
You may know how to wear Yukata
The great thing is about making Yukata from Tanmono is that the Yukata can be re-sewn and you can change the size!
The tanmono is cut into eight strips. Two strips are both folded in half to form the panels covering the front and back of the body, and two smaller strips are folded similarly to become sleeves. The remaining four strips (as well as some additional smaller strips) are used on various areas, including the narrow front panel and collar.
Each part overlaps so they make extra space. These extra spaces provide the kimono with extra length for adjusting height, width and sleeve size.

Now we do charity sell for our earthquake! (20% will be donated)
Hand sawing fee is

15000

>>>>10000yen by end of April oder
Please chose Yukata from here the price is including the sawing fee(10000yen)
*When you want to see these Yukata closer and ask questions. we can talk over skype with camera.
*I will request you to pay your shipping fee by paypal later. It will be around 1kig. some sample is here.
*Custom-sewn takes 2-3weeks.
Since hand sawing dose not need any electric but human energy. ( you may know almost every day we have black out) Make sence to put them as donation!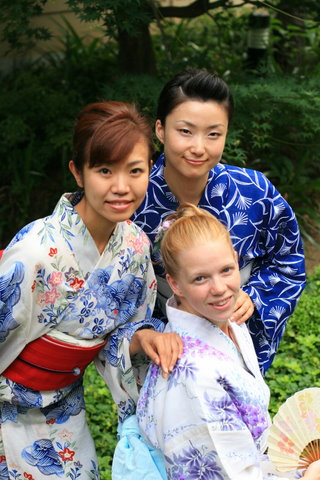 We all girls wear
custom
made Yukata and they are real Japanese made. Do you see the
difference from pre made one
?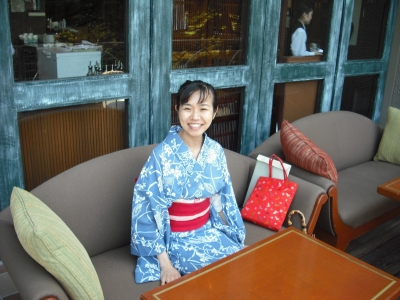 Both are made by Chikusen (info is bellow). White one is I made 20 years ago but still fashionable! Tradition never become out of time! The blue one ( Soft bank CM used info is bellow). is special. You can wear it as Kimono, Not only me, but many Japanese who have good views only wear Yukata made by Chikusen and they are all custom made.
The most traditional Yukata is made by
Chikusen
which started their business since 1842
They still made Nagaita zome which remain the making style same as 150 years ago.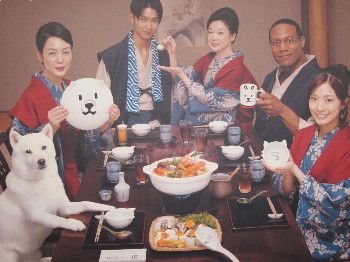 This famous family by Softbank CM all dress in chikusen's Yukata "menkobai" and Tusmugi style.