JUGEMテーマ:
ニュース
Welcome to our Kimono home salon in Harajyuku/Tokyo!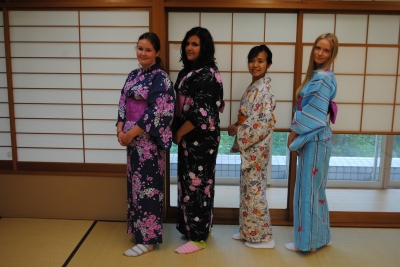 Kahori (me) is the smallest one!
we located minutes walk from Harajiyu
station
.
Go
the Meiji Shinto shrine
where is must see place in Tokyo in Kimono. Both Shinto and Kimono are deeply rooted in the way of Japanese life. It mach so well.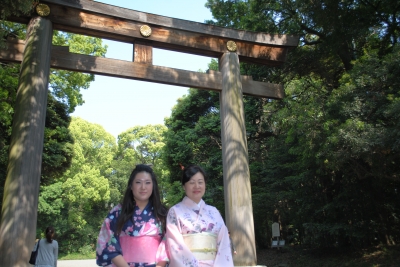 My first guest to my new salon.
Left side lady is in B Yukata , Right side lady is in A Kimono
PlaneA: All inclusive Kimono rental 8,000yen
PlaneB: Summer special Yukata (cotton summer Kimono) 8,000yen
condition
A&B All inclusive rental with dressing,
escorting the meiji-shrine (I have free entrance tickets of
garden
and
museum
there) and provide a small tea ceremony. Taking minimum around
hours
A:same price for man,women and children and you can come by yourself! I become your friend.
B: You can keep Yukata, Obi shash and Geta (
shoes
)
 For Children changing price up to age
No time? Only try on Kimono? Yes, we have a special opening offer.
Special : 1 hour Kimono Experience 5,000yen at our salon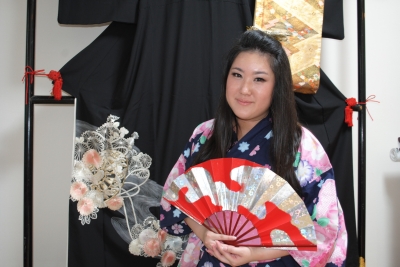 you can take photo like this. There are many tool for taking photos.
condition
All inclusive Kimono rental with dressing, staying our salon and take photos,
provide a small tea ceremony,
minimum passenger count is 2
Our Home Salon
information
Open Every day from 11am to 19pm
Location 5 miii from Takashita exit at JR Harajyuku station (yamanote line)
Map is provided after your confirmation.
1. visit this site and e-mail these info to me info@kimono-sakaeya.com
No later than 3days prior e-mail requested
2. you would get my friendly e-mail.
when you have not receive e-mail from me for 48hours, leave comments on this blog
3. you would receive paypal invoice
pay in one week/
If you cancel 24 hours before your coming, I will return payment
. After it, 50% will be charged.
If you like to rent more than one day, rent very good Kimono (Furisode), making real Kimono or Yukata, just ask me! I am very happy to support your interest!