Kimono can be divided into two types, the "Ori" and the "Some".
ORI :
The type of kimono, somewhat like a "tweed" fabric, is called ORI or TSUMUGI, which means "weaving". First, threads are colour-dyed and put on a loom. Then the pattern is made by weaving different colored threads together. This method of making kimono is less advanced than "SOME", which is why working people wore this type of Kimono. They made ORI-style Kimono by hand. The threads used were not the more expensive silk, but plants which they could pick around their house. (The silk Kimono was used only by the aristocracy)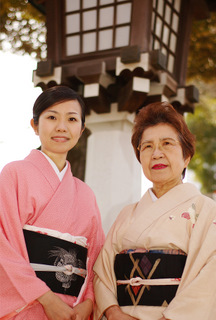 ( I am in Ori and my mother in Some)
SOME :
The other kind of kimono is SOME, which means "dye". First of all, we make a white single bolt of kimono fabric, which has never been dyed, then draw a pattern on the fabric. The most famous of this type is "Yuzen-some", which gave the kimono a more vibrant free style design. In the past, "Some" were only for rich people, because only silk could be used. This method of drawing a picture on fabric needs silk, so this type of Kimono was often given as a gift.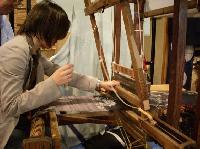 This is weaving machine [loom]
Customarily, woven patterns and repeat dyed patterns, as is commonly found in the ORI style of kimono, are considered informal. Formal kimono, having free-style designs dyed over the whole surface or along the hem, is usually the SOME style.