Kimono for The Ordinary people

It is a pity that there is little information about the Kimono of the old working classes, even though they were much greater in number than the bourgeoisie.
However, we are able to imagine what their Kimono would have been like, because living with only a bare minimum of resources available to them, their social development was relatively slow. People in the working classes had to obtain their clothing from nature. In some areas, the material used was hemp. In others, it was the bark of the elm tree. After turning the material from these plants into thread, they wove them on a frame to make the Kimono cloth. There are still some people who make this kind of Kimono by hand today, and through looking at them, we we can imagine what working class people's Kimono were like. They were not colorful or fancy, but they incorporate great warmth and beauty.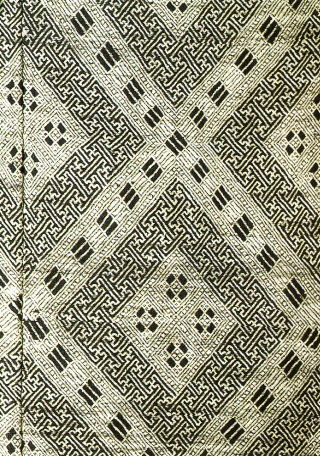 Detail
Japanese Kogin, a type of embroidery technique.
Meiji Period, 19th Century.

Sashiko and Kogin Technique
Kogin embroidery is a variation of Sashiko.
Sashiko patterns are typically traced onto the right side of the ground fabric and then stitched with 5 ? 8 small, even stitches per inch along the pattern lines. Traditional sashiko patterns are done with white thread on indigo ground fabric but modern sashiko is now done with multi-colored thread on various types of ground, including silk. Kogin embroidery is done on evenweave fabric and is stitched as an over/under darning pattern. In order to create the pattern, the horizontal stitches vary in length. Traditional Kogin embroidery was also done with white thread on indigo ground but modern Kogin embroidery can be done with any thread you choose on any ground you choose. The needlepoint.about.com archives of Janet Perry have Kogin darning patterns.
Luckily I was able to obtain the Kimono of a farmer from Yamagata** prefecture in Tohoku*,. It would appear that this kimono does not have a long history, because the material is cotton and the Tohoku area is too cold to grow cotton.
* Tohoku is north part of main island of Japan. This region has heavy snowfalls in winter and experiences very cold temperatures.
**
About Yamagata's Kimonos
Yamagata is famous for bastard saffron daying.
Here is the material and collored of them.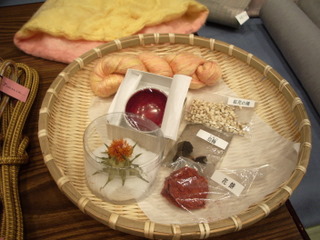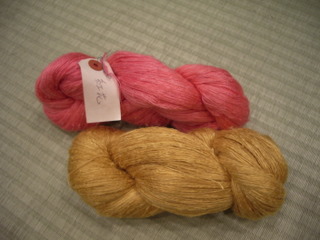 Interestingly, Kimono that was originally made by poor farmers in remote regions for their own personal use has recently become more popular, as well as expensive. These kinds of Kimono can't be made by machine.
For example, one area in Tohoku used a locally-sourced hemp called KARAMUSHI as thread. This thread was not smooth to the touch, nor good at keeping the body warm but the local people had no other alternative source for thread to make Kimono. We have one Karamushi Kimono priced at over 1,200,000yen!!!!
This is the Kimono!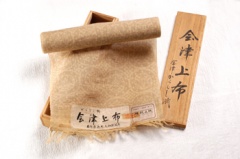 More photos >
http://0719.shop3.makeshop.jp/shopdetail/002001000004/brandname/